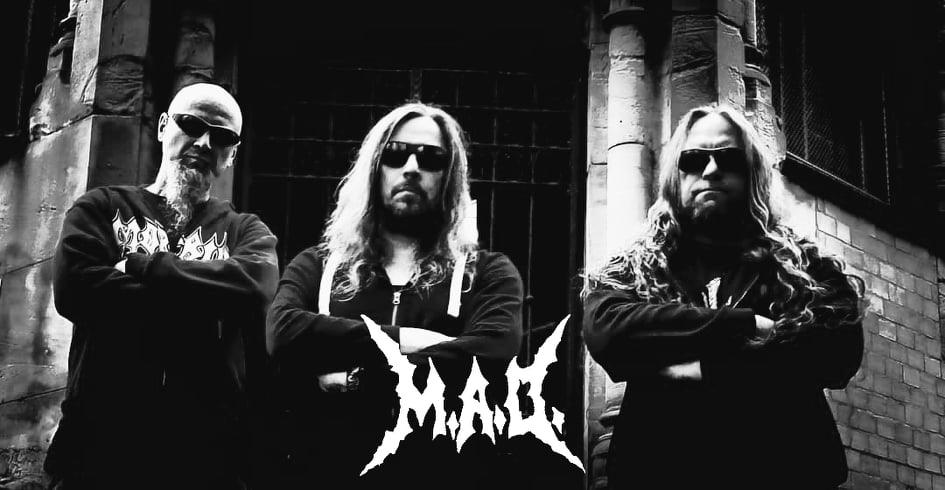 Band-Info:
M.A.D. wurde in der damaligen DDR 1986 in Bad Dürrenberg (Sachsen-Anhalt) von den 3 Bandmitgliedern Rob Eilenberger (bg), Jürgen Graf (git) und Chris Ludwig (dr) im jugendlichen Alter gegründet. (Weitere 2 ehemalige Band-Musiker waren damals zusätzlich kurzzeitig noch Maik Schmidt/Gericke (voc) und Lutz Hommel (git).)
Das Line-up besteht aktuell aus 3 Musikern, die auch schon in anderen Metal-Bands (u. a. Senistro, Overlord, Feuerstein) spielten. 2 Bandmitglieder davon (Chris Ludwig und Rob Eilenberger) sind auch bei Bloodland und 1 Bandmitglied spielt noch bei Demoria.
Gespielt wird dabei eine Mischung aus Death/Trash Metal. Mitte 1990 erschien dazu das Demo-Tape "Of Life and Death". Nach der Wende 1991 löste sich M.A.D. nach zahlreichen Live-Konzerten nach ca. 5 Jahren des Bestehens auf.
Nach 25 Jahren dann im Jahr 2015 fand eine Reunion der Band mit den 3 Bandmitgliedern in der Orginal-Besetzung statt. Im April 2016 ist unsere EP "Servants of Torture" erschienen. Ende 2018 hat dann Ulf Weidner (git) den Platz als Gitarrist von Jürgen Graf eingenommen, der aus gesundheitlichen Gründen kürzer treten musste.
Im April 2020 erschien das neue Album mit dem Titel "A plague caused the deaths" unter dem Label "German Democratic Recordings" (gdr.ostmetal.de).
Aktuelles Line-up:
Rob Eilenberger (voc/bg)
Ulf Weidner (git)
Chris Ludwig (dr)
Discographie:
1990: "Of Life and Death" (Demo-Tape DDR)
2016: "Servants of Torture" (CD: EP Reunion)
2020: "A plague caused the deaths" (CD: Album)
2020: "Of Life and Death" (CD: Album/Neuauflage Demo-Tape 1990