Update 24.01.2023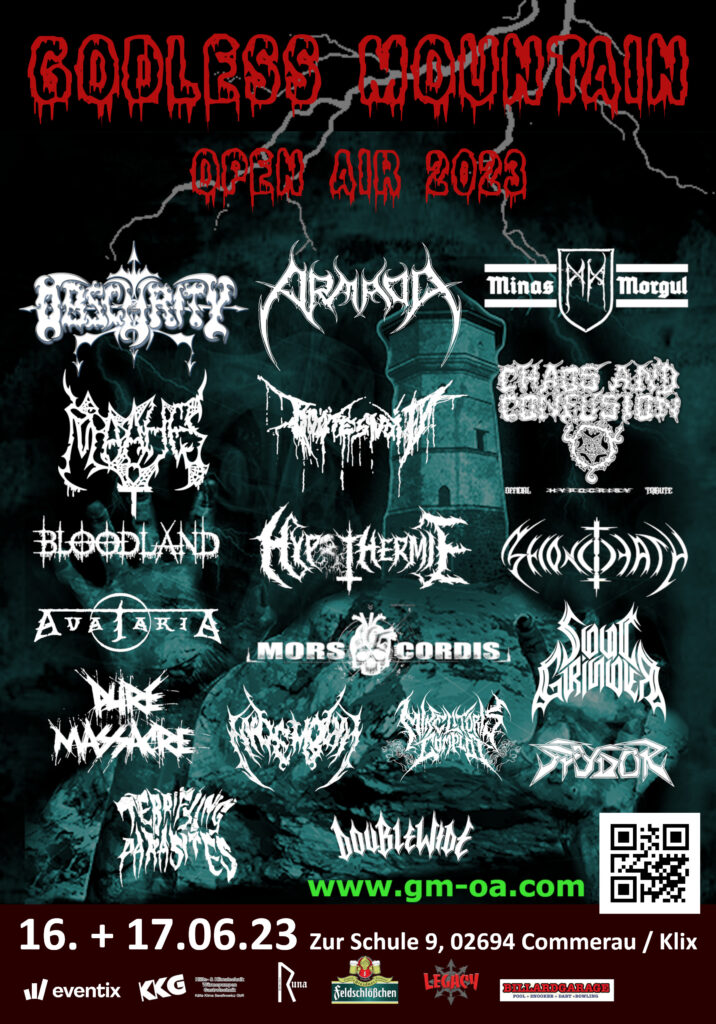 Update 23.01.2023
BOÖTES VOID und DOUBLEWIDE bestätigt für 2023 +++ LINE UP komplett +++
Update 29.11.2022
OBSCURITY und INDEMONI bestätigt für 2023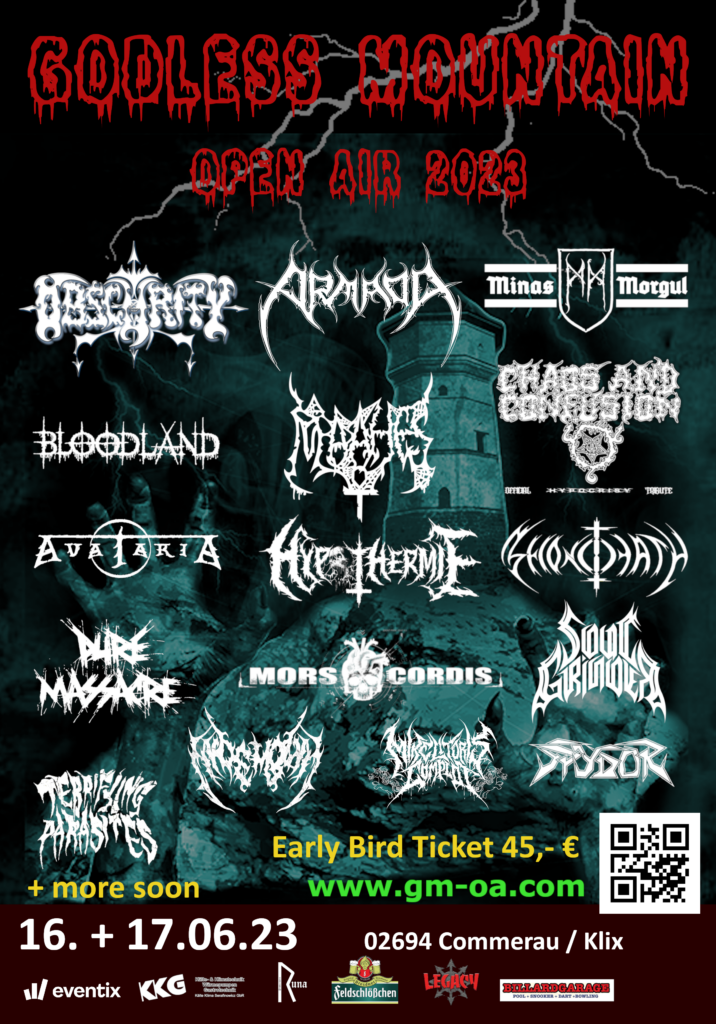 Update 29.10.2022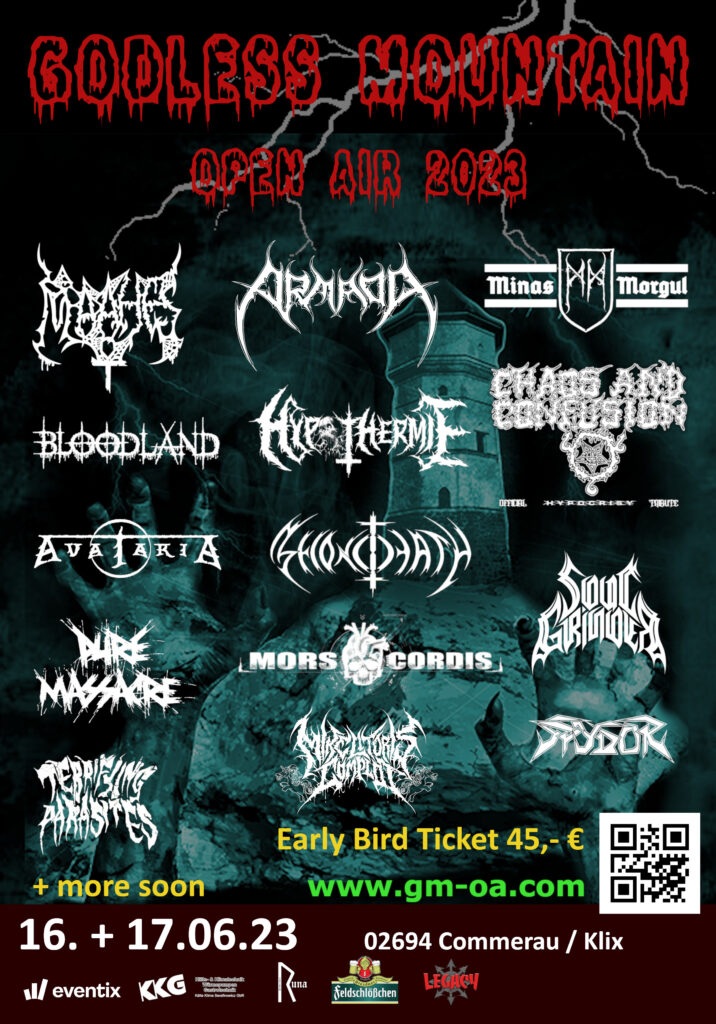 Update 26.06.2022
HÖLLISCH HEISSES GODLESS MOUNTAIN OPEN AIR 2022An dieser Stelle möchten wir ganz GROSS DANKE sagen an all unsere Besucher, an all die geilen Bands, an die Technik, Ton (trotz Gipsbein), Licht, Bühne sowie Backline. Alle habt ihr den gefühlten 666 °C getrotzt und für ein hammergeiles Festival gesorgt!!! Ganz besonderer Dank geht an die gesamte Festivalcrew. IHR SEID SPITZE!!! Ohne euch wäre das Godless Mountain Open Air nicht das was es ist. Wir sehen uns am 02.-03. Juni 2023
HELLISH HOT GODLESS MOUNTAIN OPEN AIR 2022At this point we would like to say a BIG THANK YOU to all our visitors, to all the great bands, to the technology, sound (despite the plaster leg), light, stage and backline. You all braved what felt like 666 °C and made for an awesome festival!!!! Special thanks to the whole festival crew. YOU ARE GREAT!!! Without you the Godless Mountain Open Air wouldn't be what it is. See you on 02-03 June 2023!
Update 01.06.2022
Wir machen jetzt der Gerüchteküche mal einen fetten Strich durch die Rechnung. Das Godless Mountain Open Air 2022 findet definitiv am 17. / 18. Juni in Commerau bei Klix statt! Wir freuen uns auf ein geiles Wochenende mit euch. Der Ticket VVK endet am 06. Juni 2022 um 24 Uhr!!! Sichert euch noch den VVK Preis
The Godless Mountain Open Air 2022 will definitely take place on 17/18 June in Commerau near Klix! We are looking forward to a great weekend with you. The ticket sale ends on 06 June 2022 at midnight!!! Secure your VVK price online
Update 23.05.2022
Für Musical Massacre springen APEP aus Zwickau ein und ergänzen unser Lineup um den eher technischen Death Metal Bereich. Hervorgegangen 2016 aus der damaligen Combo Carnage und stark an den Werken von Nile aber auch Bands wie Nervecell, Pestillence, Death oder Morbid Angel orientiert.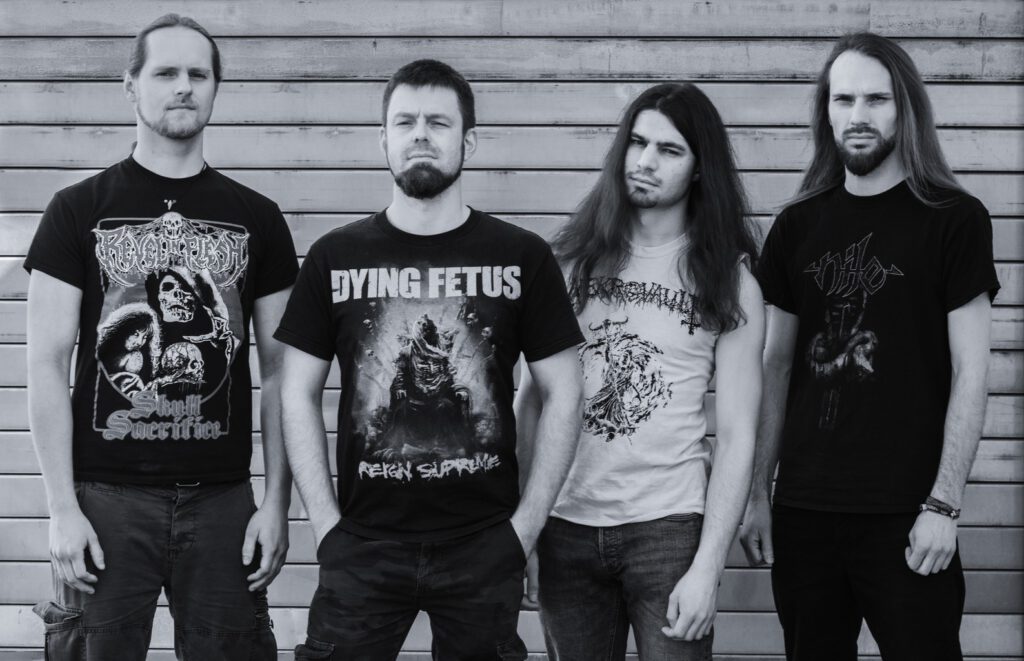 Update 17.05.2022
Leider musste Musical Massacre krankheitsbedingt ihren Auftritt auf unserem Festival absagen.
Wir wünschen an dieser Stelle gute Besserung und eine baldige Rückkehr auf die Bühne.
Für Ersatz ist bereits gesorgt.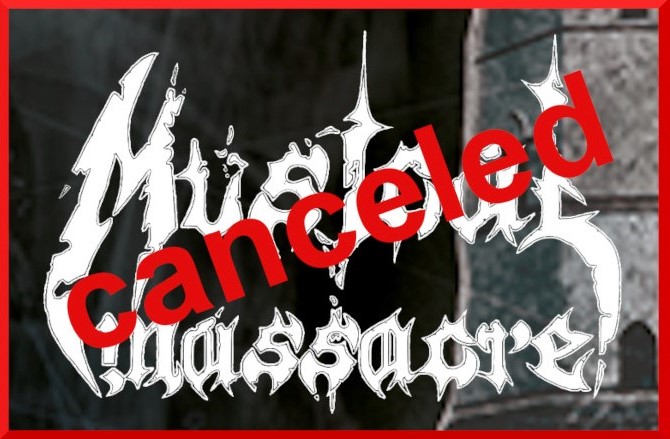 Wichtige Infos zum GMOA
In Sachsen gibt es keine "C"-Einschränkungen/Regeln für Veranstaltungen!!!
Es ist ausreichend Platz für Auto/Camper, Pavillon und Zelt auf dem Festgelände vorhanden.
Es gilt "Gebucht, Gefeiert, Spaß Gehabt"!
Update 19.04.2022
Running Order steht!
Update 03.04.2022
Anreise/Abreise möglich mit Bus und Bahn (7 Tage die Woche). Nutzt dafür bitte den Link der VVO.
Bus und Bahnverbindung:
Haltestelle: Gasthaus, Commerau bei Klix
(ca. 200 Meter vom Festivalgelände entfernt)
Anfahrt PKW/Wohnmobil:
Zur Schule 9
02694 Commerau bei Klix
Koordinaten: 51,297089, 14,506041
Update 30.03.2022
Auf Wunsch bietet euch unser Ticketservice Eventix eine Rückerstattungsabsicherung für eure Tickets an.
Bei Bedarf im Bestellverlauf anklicken.
Siehe Bild: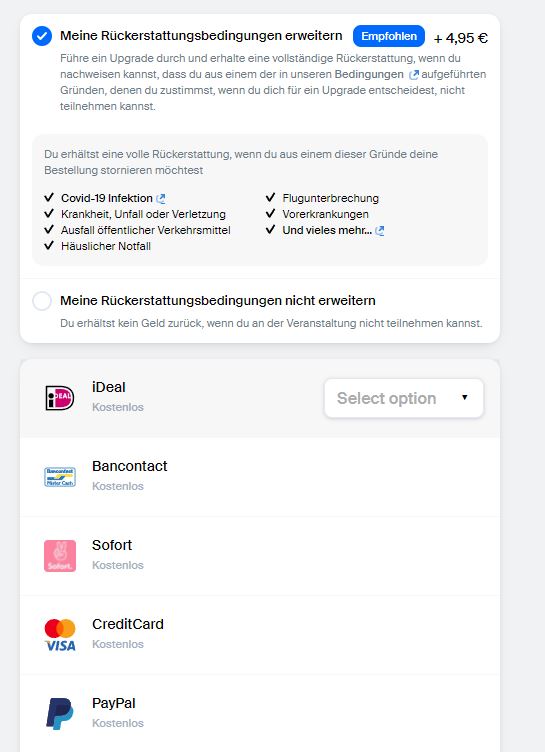 Update 21.03.2022
In weniger als 90 Tagen findet das Godless Mountain Open Air 22 statt.
Am Freitag, den 17.06.2022 um 14.30 Uhr startet die erste Band.
Einlass Festivalgelände: ab 10.00 Uhr.
Tagesticket Freitag: VVK 27,-€ / AK 32,-€ (8 Bands)
Tagesticket Samstag: VVK 35,-€ / AK 40,-€ (10 Bands)
Kombi-Ticket: VVK 55,-€ / AK 63,-€ (Freitag + Samstag)
Das Parken / Freicampen auf dem Festgelände
ist in Verbindung mit einem gültigen Ticket kostenlos.